Andy Fisher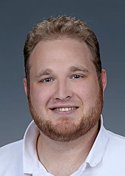 Pacific Northwest National Laboratory
PO Box 999
Richland, WA 99352
Send Email
Biography
Andy joined the staff in 2011 as an SE1 and has been at the lab for three years. Two of those years Andy worked as an intern. Andy is an Electrical Systems Power Engineer. My main area of work has been in the development of GridLAB-D, which is a power-flow simulation environment developed here at the lab.
Research Interests
Distribution Automation,
Integration of numerous distribution-level technologies
Control strategies for distribution level energy sources and loads.
Education and Credentials
B.S. in Electrical Engineering - University of Washington.
Currently working towards a M.S. in Electrical Engineering -University of Washington
PNNL Patents
PNNL Publications
2017
Huang R., R. Fan, J.A. Daily, A.R. Fisher, and J.C. Fuller. 2017. "Open-source Framework for Power System Transmission and Distribution Dynamics Co-simulation." IET Generation, Transmission and Distribution 11, no. 12:3152-162. PNNL-SA-126946. doi:10.1049/iet-gtd.2016.1556
2015
2014
Ciraci S., J.A. Daily, J.C. Fuller, A.R. Fisher, L.D. Marinovici, and K. Agarwal. 2014. "FNCS: A Framework for Power System and Communication Networks Co-Simulation." In DEVS 2014: Proceedings of the Symposium on Theory of Modeling & Simulation, April 13-16, 2014, Tampa, Florida, Article No. 36. San Diego, California:Society for Computer Simulation International. PNNL-SA-100344.
Ciraci S., J.A. Daily, K. Agarwal, J.C. Fuller, L.D. Marinovici, and A.R. Fisher. 2014. "Synchronization Algorithms for Co-Simulation of Power Grid and Communication Networks." In IEEE 22nd International Symposium on Modeling Analysis and Simulation of Computer and Telecommunication Systems (MASCOTS 2014), September 9-11, 2014, Paris, France, 355-364. Piscataway, New Jersey:IEEE. PNNL-SA-101723. doi:10.1109/MASCOTS.2014.51
2013
Fuller J.C., A.R. Fisher, S. Ciraci, J.L. Hammerstrom, M.L. Hauer, and K.P. Schneider. 2013. Roadmap Document for Pacific Northwest National Laboratory Contribution to the Open Modeling Framework. PNNL-22489. Richland, WA: Pacific Northwest National Laboratory. Roadmap Document for Pacific Northwest National Laboratory Contribution to the Open Modeling Framework
Fuller J.C., S. Ciraci, J.A. Daily, A.R. Fisher, and M.L. Hauer. 2013. "Communication Simulations for Power System Applications." In IEEE Workshop on Modeling and Simulation of Cyber-Physical Energy Systems (MSCPES), Co-Located with the Fourth ACM International Conference on Future Energy Systems, May 20, 2013, Berkeley, California, 24-29. Piscataway, New Jersey:Institute of Electrical and Electronics Engineers. PNNL-SA-93705.
Kalsi K., J.C. Fuller, F.K. Tuffner, J. Lian, W. Zhang, L.D. Marinovici, and A.R. Fisher, et al. 2013. Integrated Transmission and Distribution Control. PNNL-22157. Richland, WA: Pacific Northwest National Laboratory. Integrated Transmission and Distribution Control