Harold Kirkham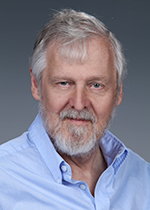 Pacific Northwest National Laboratory
PO Box 999
Richland, WA 99352
Send Email
Biography
Harold Kirkham joined Pacific Northwest National Laboratory in 2009 to do research related to the smart grid. Before that, he was at the Jet Propulsion Laboratory in Pasadena, California, where he managed a number of projects related to electric power systems and measurements. At PNNL he has studied HVDC power transmission, wind integration, and phasor measurement systems.
A Fellow of IEEE, Dr. Kirkham was for five years the chair of the PES Instrumentation and Measurements Committee. He was a member of the Power and Energy Society's Technical Council for several years, and has participated in the development of several standards. He has received several IEEE awards. He has published many papers and reports, and a "how to" book on technical graphics.
Research Interests
Measurements for power systems
Power system operations and smart grid
Electric field measurements
Education and Credentials
Ph.D. Stability of combined AC/DC power system, Drexel University, 1973
MSc Power Systems, Aston University, England, 1968
BSc (Hons) Power Systems, Measurements, Aston University, England, 1966
Affiliations and Professional Service
Fellow of IEEE
Member of Power and Energy Society
Member of Instrumentation and Measurement Society
Member of Dielectric and Electric Insulation Society
Member of Sigma Xi, the Scientific Research Society
PNNL Publications
2018
Fan R., M.A. Elizondo, H. Kirkham, J. Lian, F. Wilches-Bernal, and D. Schoenwald. 2018. "Oscillation Damping Control Using Multiple High Voltage DC Transmission Lines: Controllability Exploration." In IEEE/PES Transmission and Distribution Conference and Exposition (T&D 2018), April 16-19, 2018, Denver, Co, 1-9. Piscataway, New Jersey:IEEE. PNNL-SA-128302. doi:10.1109/TDC.2018.8440281
Kirkham H. 2018. "Measurement and Instrumentation." In Standard Handbook for Electrical Engineers, 17th Edition, edited by S Santoso and HW Beaty. 53-94. New York, New York:McGraw-Hill Education. PNNL-SA-131084.
2017
Elizondo M.A., N. Mohan, J.G. O'Brien, Q. Huang, D. Orser, W. Hess, and H. Brown, et al. 2017. "HVDC Macrogrid Modeling for Power-Flow and Transient Stability Studies in North American Continental-Level Interconnections." CSEE Journal of Power and Energy Systems 3, no. 4:390-398. PNNL-SA-123296. doi:10.17775/CSEEJPES.2017.00420
Elizondo M.A., N. Mohan, J.G. O'Brien, Q. Huang, D. Orser, W. Hess, and H. Brown, et al. 2017. "HVDC Macrogrid Modeling for Power-flow and Transient Stability Studies in North American Continental-Level Interconnections." CSEE Journal of Power and Energy Systems 3, no. 4:390-398. PNNL-SA-125455. doi:10.17775/CSEEJPES.2017.00420
Gourisetti S.G., H. Kirkham, and D. Sivaraman. 2017. "A Review of Transformer Aging and Control Strategies." In North American Power Symposium (NAPS 2017), September 17-19, 2017, Morgantown, West Virginia. Piscataway, New Jersey:IEEE. PNNL-SA-125949. doi:10.1109/NAPS.2017.8107234
Kirkham H., and M. Albu. 2017. "Measurement, Nyquist and Shannon: a view of PMU metrology." In Proceedings of the 10th International Symposium on Advanced Topics in Electrical Engineering (ATEE 2017), March 23-25, 2017, Bucharest, Romania, Paper No. 265. Piscataway, New Jersey:IEEE. PNNL-SA-123840. doi:10.1109/ATEE.2017.7905142
Lian J., S. Wang, M.A. Elizondo, J. Hansen, D. Schoenwald, R. Huang, and R. Fan, et al. 2017. Universal Wide-area Damping Control for Mitigating Inter-area Oscillations in Power Systems. PNNL-27351. Richland, WA: Pacific Northwest National Laboratory. Universal Wide-area Damping Control for Mitigating Inter-area Oscillations in Power Systems
Makarov Y.V., M.A. Elizondo, J.G. O'Brien, Q. Huang, H. Kirkham, Z. Huang, and M. Chinthavali, et al. 2017. Models and methods for assessing the value of HVDC and MVDC technologies in modern power grids. PNNL-26640. Richland, WA: Pacific Northwest National Laboratory. Models and methods for assessing the value of HVDC and MVDC technologies in modern power grids
Mix S.R., H. Kirkham, and A. Silverstein. 2017. Recommended Guidelines for NERC CIP Compliance for Synchrophasor Systems. PNNL-27062. Richland, WA: Pacific Northwest National Laboratory. Recommended Guidelines for NERC CIP Compliance for Synchrophasor Systems
Riepnieks A., and H. Kirkham. 2017. "An Introduction to Goodness of Fit for PMU Parameter Estimation." IEEE Transactions on Power Delivery 32, no. 5:2238-2245. PNNL-SA-113867. doi:10.1109/TPWRD.2016.2616761
2016
Kirkham H. 2016. "The Measurand: The Problem of Frequency." In IEEE International Instrumentation and Measurement Technology Conference Proceedings (I2MTC 2016), May 23-26, 2016, Taipei, Taiwan. Piscataway, New Jersey:IEEE. PNNL-SA-113733. doi:10.1109/I2MTC.2016.7520347
Kirkham H., A. Riepnieks, E. So, and J. McBride. 2016. "Error Correction: a Proposal for a Standard." In Conference on Precision Electromagnetic Measurements (CPEM 2016), July 10-15, 2016, Ottawa, Ontario, Canada. Piscataway, New Jersey:IEEE. PNNL-SA-115247. doi:10.1109/CPEM.2016.7540557
Kirkham H., and A. Riepnieks. 2016. "Dealing with Non-Stationary Signals: Definitions, Considerations and Practical Implications." In IEEE Power and Energy Society General Meeting (PESGM 2016), July 17-21, 2016, Boston, Massachusetts. Piscataway, New Jersey:IEEE. PNNL-SA-114274. doi:10.1109/PESGM.2016.7741270
Marinovici M.C., H. Kirkham, and S.E. Widergren. 2016. "Influential Aspects of the Smart City." In 49th Hawaii International Conference on System Sciences (HICSS 2016), January 5-8, 2016, Koloa, Hawaii, 4764-4772. Piscataway, New Jersey:IEEE. PNNL-SA-112973. doi:10.1109/HICSS.2016.591
2015
Chassin D.P., Y. Zhang, P.V. Etingov, D.P. James, D.D. Hatley, H. Kirkham, and J. Kueck, et al. 2015. ARRA Interconnection Planning - Load Modeling Activities. PNNL-24425. Richland, WA: Pacific Northwest National Laboratory. ARRA Interconnection Planning - Load Modeling Activities
2014
Balducci P.J., C.A. Antonopoulos, S.L. Clements, W.J. Gorrissen, H. Kirkham, K.A. Ruiz, and D.L. Smith, et al. 2014. Smart Grid Status and Metrics Report Appendices. PNNL-23461. Richland, WA: Pacific Northwest National Laboratory. Smart Grid Status and Metrics Report Appendices
Balducci P.J., M.R. Weimar, and H. Kirkham. 2014. Smart Grid Status and Metrics Report. PNNL-23423. Richland, WA: Pacific Northwest National Laboratory. Smart Grid Status and Metrics Report
Kirkham H., and J.E. Dagle. 2014. "Synchronous Phasor-like Measurements." In IEEE PES Innovative Smart Grid Technologies Conference (ISGT 2014), February 19-22, 2014, Washington DC, 1-5. Piscataway, New Jersey:IEEE. PNNL-SA-100372. doi:10.1109/ISGT.2014.6816510
Marinovici M.C., H. Kirkham, and K.A. Glass. 2014. "The Hidden Job Requirements for a Software Engineer." In 47th Hawaii International Conference on System Sciences (HICSS), January 6-9, 2014, Waikoloa, HI, 4979 - 4984. Piscataway, New Jersey:Institute of Electrical and Electronics Engineers. PNNL-SA-96454. doi:10.1109/HICSS.2014.611
2013
Kirkham H. 2013. "The Digital Revolution in Measurements." In IEEE PES Innovative Smart Grid Technologies (ISGT 2013), February 24-27, 2013, Washington DC, 1-6. Piscataway, New Jersey:IEEE. PNNL-SA-90969. doi:10.1109/ISGT.2013.6497875
Kirkham H., and M.C. Marinovici. 2013. "Technology Readiness and the Smart Grid." In IEEE PES Innovative Smart Grid Technologies (ISGT 2013), February 24-27, 2013, Washington DC, 1-6. Piscataway, New Jersey:IEEE. PNNL-SA-90917. doi:10.1109/ISGT.2013.6497804
Kirkham H., M.C. Marinovici, G. Fitzpatrick, K. Lindsey, J. McBride, and G.L. Clark. 2013. "Technology Readiness for the Smart Grid." In CIGRE Grid of the Future Symposium, October 20-22, 2013, Boston, MA. College Station, Texas:Texas A&M University. PNNL-SA-97568.
Marinovici M.C., and H. Kirkham. 2013. "The Many Faces of a Software Engineer in a Research Community." In 31st Annual Pacific Northwest Software Quality Conference (PNSQC 2013), October 14-16, 2013, Portland, Oregon, 231-238. Portland, Oregon:PNSQC. PNNL-SA-97287.
Marinovici M.C., H. Kirkham, K.A. Glass, and L.C. Carlsen. 2013. "Modeling Power System Operation with Intermittent Resources." In IEEE PES Innovative Smart Grid Technologies, February 24-2, 2013, Washington DC, 1-6. Piscataway, New Jersey:IEEE. PNNL-SA-91070. doi:10.1109/ISGT.2013.6497841
2012
2011
Clements S.L., H. Kirkham, M.A. Elizondo, and S. Lu. 2011. "Protecting the Smart Grid: A Risk Based Approach." In Proceedings of the IEEE Power and Energy Society General Meeting, July 24-29, 2011, Detroit, Michigan. Piscataway, New Jersey:IEEE. PNNL-SA-77787. doi:10.1109/PES.2011.6039120
Kirkham H., Y.V. Makarov, J.E. Dagle, J.G. DeSteese, M.A. Elizondo, and R. Diao. 2011. Geomagnetic Storms and Long-Term Impacts on Power Systems. PNNL-21033. Richland, WA: Pacific Northwest National Laboratory. Geomagnetic Storms and Long-Term Impacts on Power Systems
Lu S., P.V. Etingov, R. Diao, J. Ma, N.A. Samaan, Y.V. Makarov, and X. Guo, et al. 2011. Large-Scale PV Integration Study. PNNL-20677. Richland, WA: Pacific Northwest National Laboratory. Large-Scale PV Integration Study
Mahan R.E., J.D. Fluckiger, S.L. Clements, C.W. Tews, J.R. Burnette, C.A. Goranson, and H. Kirkham. 2011. Secure Data Transfer Guidance for Industrial Control and SCADA Systems. PNNL-20776. Richland, WA: Pacific Northwest National Laboratory. Secure Data Transfer Guidance for Industrial Control and SCADA Systems
2010
Akyol B.A., H. Kirkham, S.L. Clements, and M.D. Hadley. 2010. A Survey of Wireless Communications for the Electric Power System. PNNL-19084. Richland, WA: Pacific Northwest National Laboratory. A Survey of Wireless Communications for the Electric Power System
Clements S.L., and H. Kirkham. 2010. "Cyber-Security Considerations for the Smart Grid." In IEEE Power and Energy Society General Meeting, July 25-29, 2010, Minneapolis, MN. Piscataway, New Jersey:IEEE. PNNL-SA-70591. doi:10.1109/PES.2010.5589829
Widergren S.E., and H. Kirkham. 2010. "Smart Grid - Transforming Power System Operations." In IEEE Power & Energy Society General Meeting, July 25-29, 2010, Minneapolis, MN. Piscataway, New Jersey:Institute of Electrical and Electronics Engineers. PNNL-SA-70565. doi:10.1109/PES.2010.5589444
2009