Greg Dayley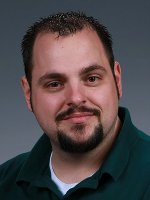 Pacific Northwest National Laboratory
PO Box 999
Richland, WA 99352
Send Email
Biography
Greg Dayley joined Pacific Northwest National Laboratory (PNNL) in 2010 as a Network Administrator. Mr. Dayley currently is continuing his education and working toward a B.S. in IT Networking. He has been building and repairing computers for 14 years.
Research Interests
Network Security
High-speed data transmission
High-speed computing
Networking systems.
Education and Credentials
A.A. Information Technology/ Networking, University of Phoenix, 2009
PNNL Publications
2017
Rice M.J., C.A. Bonebrake, G.K. Dayley, and L.J. Becker. 2017. Secure ICCP Final Report. PNNL-26729. Richland, WA: Pacific Northwest National Laboratory.
2014
Marinovici M.C., J.L. Hammerstrom, S.E. Widergren, and G.K. Dayley. 2014. "Visualizations for Real-time Pricing Demonstration." In IEEE PES Innovative Smart Grid Technologies Conference (ISGT 2014), February 19-22, 2014, Washington DC. Piscataway, New Jersey:Institute of Electrical and Electronics Engineers. PNNL-SA-97920. doi:10.1109/ISGT.2014.6816428